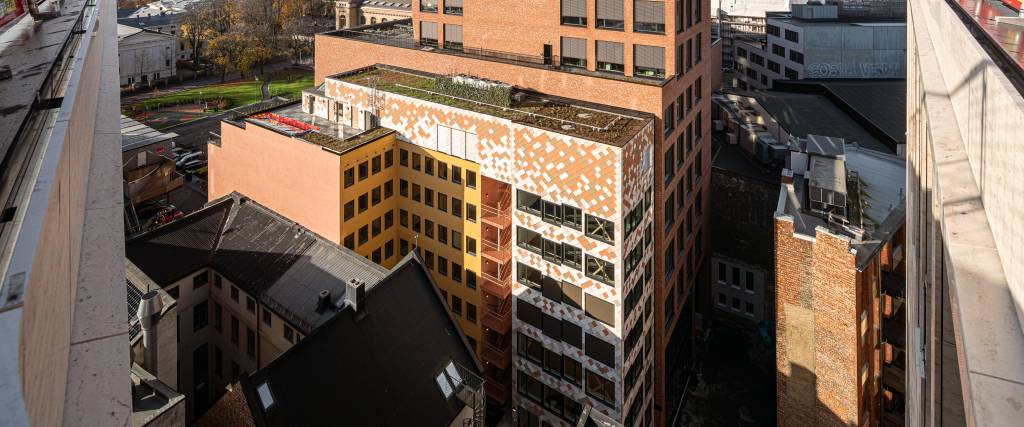 ESG - strategy and goals
Entra is committed to operate in accordance with responsible, ethical, and sound business principles.
Entra's ESG strategy and work is focused on areas where Entra can have material impact on people and environments and/or which can have material financial impact on Entra and can briefly summed up as follows:
Environmental leadership is one of Entra's three strategic pillars, and its Net Zero Carbon strategy is set to contribute to the world's carbon reduction targets whilst also focusing on the use of natural resources and circularity.
To operate Entra's business and value chain in an ethical, inclusive, and sustainable manner is of key strategic importance and seen as a prerequisite for our license to operate.
Growing social value, health, safety and wellbeing in the company's properties, clusters and communities is important and sensible from both a social and financial perspective.
Through investing in its culture and people, Entra continues to improve its business and competitive edge, as well as being able to seize the opportunities emerging in its business environment.
It is important for Entra to maintain an open, structured, and honest dialogue with its stakeholders to better understand and implement their requirements and expectations as well as specific opportunities and concerns about Entra's business and its impact.
To read more about our ESG strategy, hereunder stakeholder dialogue, materiality analysis, KPIs, results, risks and opportunities, please see the ESG section in our Annual Report or our ESG report.